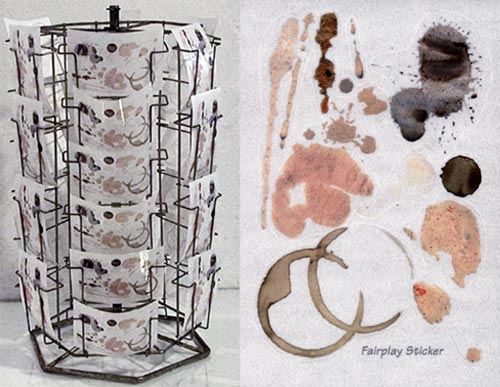 Yvonne Jenter:
Fairplay Sticker
A vörösbor- kávé- ketchup foltok magasabb esztétikai pontenciáljuk ellenére árnyékéletet élnek. Bizarr formáik és ruházaton jó érzékkel megtalált, exponált helyük ellenére gyakran kellemetlen a jelenlétük. Általában a legrosszabb pillanatokban keletkeznek, és kínos dísznek érezzük őket.
Ha felszerelkezik a STIKER szettel, játékosan kezelheti az ilyen eseményeket.
Foltosítsa magát jó előre, legyen vizuálisan szolidáris embertársaival!
Hétköznapi fairplay
Szalonképes lesz a folt
---
Yvonne Jenter:
Fairplay Sticker
Despite their higher aesthetic potential, red wine, coffee and ketchup stains have a shadow existence. Despite their bizarre forms and the exposed places where they appear – as if having a will of their own – their presence is often perceived as unpleasant. They usually 'happen' in the worst moments and we feel they are awkward 'decorations'.
If you get hold of a STIKER set, you can handle such accidents playfully.
Create your own stains in advance to show visual solidarity with your fellow humans!
Everyday fair play
And your stain will be presentable.