AL 11. (Spring 1985) - SUMMARY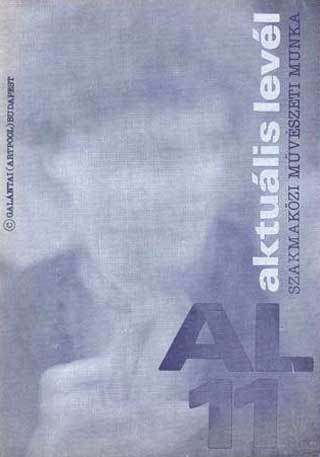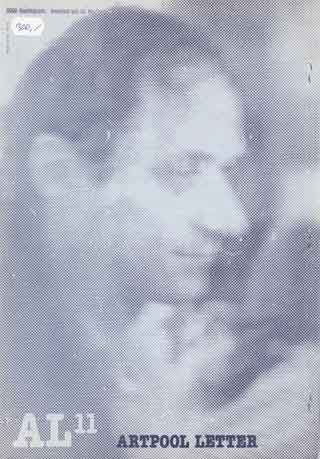 1. Front cover and back cover: István Bálint (Squat Theatre, New York) and Péter Müller (lead singer of the pop-group Sziámi-Sziámi) are together at the Icarus Culture House on 20th May, 1984.
2. Inside cover: Publicity picture from the film "Unbesiegsbare", directed by Gusztáv Hámos from the script by György Kozma. The film is shot in Berlin.
4. "Freshly Painted" - The New Wave of the Hungarian Painting - an exhibition in the Ernst Museum opened 24th August, 1984.
S. Opening speech of the exhibition by László Beke.
Beke's indignant opening speech is a kind of gesture representing his own doubts of the post-modern situation. His opinion is that the emblem of "post-modernism" is only a mask and he hopes that behind this mask the real avant-garde attitude is none the less alive.
14. "Art as Dragon or What Comes After Neo-Avantgarde Is Salon Art Again?" a study by Géza Perneczky.
Géza Perneczky (artist and art critic who now lives in Cologne) makes a comparison in his short thesis between the XlXth century and the XXth century "fin de siecle" eclecticism.
18-27. "Border-Signs" - a Sympozion on New Art in Breitenbrunn, Austria.
18-19. Photographs depicting a performance held by János Szirtes.
20. Wolfgang Ernst: Hextaoirre, Gestures and Pages, Violine, Orpheus Fragments (photos of the performance - poetry reading)
21. A short study introducing Wolfgang Ernst's works by László F. Földényi (philosopher).
22-24. Wolfgang Ernst: Hextaoirre, Gestures and Pages (Texts-excerpts).
25. "Burning Stone" - action by János Vető and Wolfgang Ernst, a photo and script of the event.
27. Photos of some participants of the symposion.
28. A conversation on the Kassák Theatre.
Participants of this conversation at the Artpool Studio, Tamás Ascher, János Szikora (stage directors), László Rajk (architect), Ádám Tábor (poet and essayist), Eszter and István Bálint (Squat Theatre, N.Y.) talk about the beginning phase of the Kassák Theatre Group which later was forced by the circumstances into an internal immigration and functioned as an "Apartment Theatre". In 1976 the group moved to the West and later showed up in New York as "Squat Theatre", gaining world-fame with such productions as "Andy Warhol's Last Love", "Mr. Dead & Mrs. Free", "Pig, Child, Fire". István Bálint also talks about their special presence on the N.Y. scene being not too much fashionable nor too much élite.
33. "Narrow Theatre" - a study by Ádám Tábor.
34. "Big Flat" - a study by Gergely Molnár.
41. Chronology of the Kassák Theatre.
45. Data of the Squat Theatre's history.
47. "Glowing Embers" - a book of selected song lyrics and poems by György Kozma, János Vető, Jenő Menyhárt, Mihály Víg, illustrated by Marietta Méhes (excerpts).
48-54. Private Correspondance between László Beke (art-critic and historian) and Sándor Radnóti (philosopher). Second Part.
55. "Neoist Farewell Performance" by Monty Cantsin, founder of the International Neoist Movement - held 19th May, 1984 in a blockhouse-cellar and courtyard, Budapest.
István Kántor alias Monty Cantsin is a Canadian based artist who invented Neoism. He propagates his Neoist ideas by means of performances, individual and collective bloodlettings, videos, propaganda songs, etc.
58. News in brief.
Events, invitation-files, exhibitions in Budapest.