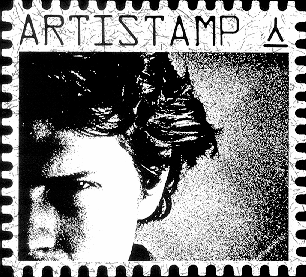 Canadian multimedia artist and philatelist Thomas Michael Bidner, the owner of one of the world's largest artistamp collections, before his death in 1989, bequeathed his collection to Artpool.
Similarly to Artpool's, Mike Bidner's collecting technique was to exchange self-made stamps and organize exhibitions in the mail art network. Bidner's collection in 1988 consisted of 10,000 stamps as well as information about the artists.
The special characteristics of Bidner's self-designed artistamps' were that he personilized the pictures and motifs collected mainly from newspapers. He then added text or his logo, after having excluded the parts that implied their origin.
This stamp-making technique refers to the philatelist's philosophy, because not only did Bidner deal with the fax-art and different electronic picture-alterations, but he also had an important philatelic collection of non-artistamps. His attraction to the artistamp picture grew when in 1982 the catalogue of the World Art Post project by Artpool, with 756 stamp-pictures, fell into his hands.
He was able to sell his valuable philatelic stamp collection in order to start new activities in the field of artistamps. He introduced new and more efficient techniques of correspondence, he wrote his letters with the computer and arranged the received stamp-pictures in a database. In his letters he sent explanations about his work and he surprised his fellow artists with statistics.
For instance, he made a statistic about the number of stamp-artists worldwide, which shows that USA is in first place with 265 artists, Hungary is second with 152 artists and third is Canada with 68 artists.
The canadians call Bidner the pioneer of artistamp, and today they regret terribly that nobody in Canada was willing to host his collection, and it was instead bequeathed to Artpool.
Therefore taking care of the legacy and making it public should be Artpool's task and this little remembrance exhibition is the first step of publicity.
(translated from Hungarian by Márta Antal)
Biographical data:
He was born in 1944 (London, Ontario, Canada). After his musical, technical and artistic studies he participates from 1970 onwards in exhibitions especially with printed graphics, then with photo, slide, video, photocopy and fax works. From 1976 he works with color copying, and he is interested in unique bookworks as well. From 1981 the computer and from 1982 the artistamps and the miniature art are the focus of his attention. In 1984 he organizes his first artistamp exhibition, entitled "Artistampex".
In 1987 he planned to come to Budapest to the exhibition, entited "Stamp Images" ( Bélyegképek) in the Museum of Fine Arts but his fatal illness prevented him from it.

[Illustrations on this page © 1999-2000 Artistamp Inc.]
---
topics | call | archives | Canada | girl | sea | symbol | hat
rocket | make | a girl & a boy | boy | protection | fiction