From: "Bruno"
Date: June 1, 2006 9:39:03 PM GMT+02:00
Subject: bnet e-zine / mail art bulletin # 15
bnet e-zine
mail art bulletin # 15 / 06.'06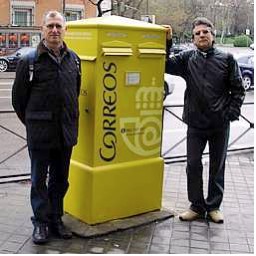 I Santini Del Prete with letterbox in Madrid, Spain 03.'06 / ISDP's photo detail
I Santini del Prete, C.P. 133, Rosignano M. (Livorno), Italy
Please, send me your or other MA calls and if you want, you can send bnet e-zine to all your e-friends!
bnet e-zine is published on
http://blog.libero.it/bnetblog/
Thanks to all net-friends for infos
for translation: http://babelfish.altavista.com/babelfish/tr
I spread MAIL ART projects, with many pleasure.
signalings of bnet e-zine on:
> http://fanzineitaliane.splinder.com/ + http://fanzineitaliane.blog.excite.it/
Fanzine Italiane – Associazione di Promozione Sociale
339 3085390 (Gianluca Umiliacchi)
Casella Postale 25 – 48020 Savio RA Italy
www.fanzineitaliane.it
Bastian Contrario
Archivio Nazionale Fanzine Italiane
Casella Postale 25 – 48020 Savio RA Italy
mailart on web:
RF Cőté, Canada > http://rfcote.blogspot.com/
Nada-Zero, France > http://nada.zero.free.fr/
Artpool / The Experimenter & the art of perception / the telematic art – the art of freedom, Hungary >http://telematic.artpool.hu/2005/Functionary.html
Museo dei Tarocchi / Mailart, Italy > http://www.museodeitarocchi.it/Mailart.htm
Vittore Baroni, Italy > http://www.adolgiso.it/nadir/vittore_baroni.asp
Archivio Mail Art, Italy > http://www.guzzardi.it/arte/
A.1. Mail Art Archives, UK > http://a1mailart.blogspot.com/
Breast Cancer Awareness : Celebration of Courage, USA > http://www.foothill.edu/fa/photo/mailart
Mick Boyle, USA > http://digitalmailart.blogspot.com/
http://www.tooknappress.com > http://www.flickr.com/groups/rayjohnson/
contacts:
Yolaine Carlier, 4 rue Neuve, 89300 Joigny, France
ZAV Albatroz, B:P: 404, 75969 Paris Cedex 20, France
Archivio di Mail Art "L. Pirandello" / Mail Art Service Bollettino c/o Andrea Bonanno, C.P. 69, 33077 Sacile (PN), Italy
Claudio Romeo, V.le Kennedy 144, 20050 Villa Raverio (Mi), Italy
Ogawa Kazuko, 264-2-104 Minamioya, Machida Tokyo 194-003,Japan
Martin Schwarz / EigenArt Verlag, Schiltwiessenweg 1, CH-8404 Winterthur, Switzerland
Piet Franzen / SIPAC, Hogewoerd 77, 2311 HG Leiden, the Netherlands
Ad Breedveld, Gen. v. d. Boschweg 9, NL 9341 AC, Veenhuizen, the Netherlands
Artie Bohm, 425-2nd Ave. N.E., Saint Cloud, MN 56304, USA
Serendipity, Attn: Swap Shop Team, PO Box 46035, Eden Prairie, MN 55344, USA
…
Sivio De Garcia / Hotel DADA, Argentina > >http://www.playfestival.com.ar/
Jean-Marc Renault, France > >http://jmr.skyblog.com
Lauranne, France > >http://lauranne.lauranne.free.fr/indexv.htm / >http://lauranne.lauranne.free.fr/Textes/
k'a editions, France > >http://www.editionska.com/
Siviera Simposio Internazionale 2005, Italy > >http://www.subsito.it/simposio/
Laura Cristin, Italy > >http://www.lauracristin.it/sherene/index.aspx
Eddie (J.Bermúdez), Spain > >http://eddiepoema.blogspot.com/
Marleen van Engelen, the Netherlands > >http://www.kunst-en-vlieg.com/
Kate Jordahl, USA > >http://www.jordahlphoto.com/index.html
Haven't-Garde Art / Reid Wood, USA > >http://havent-gardeart.blogspot.com
Bruno's web pages (2):
>http://www.redfoxpress.com/stencilgall2.html
>http://digilander.libero.it/boschianna/Mail Art/Mail Art 3.htm
>http://www.mailartmeeting.com/letter-box_video_network.htm
>http://site.voila.fr/fa-pictures/images/brunocapatti.jpg
>http://www.principearte.it/map/pagina capatti.htm
>http://www.edgar.de/galerie/2848.html
>http://www.boek861.com/galeria2/autor2.php?aut=Bruno Capatti
>http://mailart-mailboxes.blogspot.com/2005_03_01_mailart-mailboxes_archive.html
>http://www.foothill.edu/fa/photo/mailart/gallery.html
>http://www.santicabezuelo.com/capatti.htm
events:
L'ALBERO DELLA POESIA – THE TREE OF POETRY / 25 aprile 2006 – Mestre (VE)
Il giorno del 25 Aprile per i veneziani è il giorno del loro patrono S.Marco e la ricorrenza della festa tradizionale del bocolo che ricorda una leggenda medioevale di un amore. Ed è proprio in questo giorno, caro ad ogni veneziano, che Giancarlo Da Lio e Tiziana Baracchi nel 1989 hanno deciso di realizzare un happening dedicato all'arte e alla poesia. Scegliendo come spazio espositivo il giardino di casa, oggi Giardino della Ambasciata di Venezia. All'interno del giardino, nel lontano 1989, si trovava un giovane Acero Americano alle cui fronde avevano appeso poesie e interventi di poeti italiani, e poi sculture sull'erba, installazioni e quadri nello spazio circostante. Una sfida contro la crisi del circuito culturale tradizionale e del sistema dell'arte. Un ribadire che l'arte non è soltanto quella spesso ammuffita degli spazi ufficiali. Un riprendere un dialogo con l'uomo della strada che mai metterà piede in una galleria o in uno spazio espositivo tradizionale. L'interesse suscitato li ha indotti a continuare e nel 2006 festeggiano la 19ma edizione. Un percorso così profondo da pensare che non esista. Ma esiste e stanno a confermarlo il materiale e la documentazione conservati nell'archivio di Itinerari 80 e la continua e quotidiana corrispondenza che arriva da tutti i continenti. Centinaia sono gli artisti multimediali e i poeti che hanno avuto il piacere di partecipare a questa manifestazione e che continuano. Rappresentano trenta Nazioni nel mondo. Quest'anno tra gli stranieri che vi hanno aderito non soltanto con la spedizione di un'opera ma anche con la presenza fisica segno di una fattiva collaborazione e partecipazione ci sono Reid Wood (USA), Pete Spence (Australia), Peter Küstermann (Germania), Ad Breedveld e Marleen van Engelen (Olanda), Yolaine Carlier (Francia). Il 25 Aprile diventa anche un motivo di incontro per gli artisti appartenenti al Network che possono così avere una opportunità di conoscenza globalizzata del vivere dell'arte e della poesia contemporanee. Quindi la caratteristica principale dell'happening che è quella dell'incontro come conoscenza diretta viene rispettata e potenziata da una presenza internazionale.
E' così che oggi l'Acero Americano è diventato un albero grande ed importante,
conosciuto in tutto il mondo
>http://www.arte.go.it/eventi/2006/0852.htm
Artisti presenti:
CANADA: Ed Varney / FRANCIA Yolaine Carlier / GERMANIA Peter Kustermann
ITALIA: Tiziana Baracchi, Carlo Brisotto, Bruno Capatti, Carmela Corsitto, Laura Cristin,
Silvio De Campo e Renata Galiazzo, Adolfina De Stefani, Fernanda Duso, Mauro Gentile,
Claudio Grandinetti, Gruppo Open, Antonello Mantovani, Gianni Noli, Roberto Sanchez,
Gianluca Scordo, Salvatore Starace, Giovanni e Renata Strada
AUSTRALIA Pete Spence / OLANDA Ad Breedveld, Marleen van Engelen / USA Reid Wood
L'ALBERO DELLA POESIA – THE TREE OF POETRY
Giardino dell'AMBASCIATA DI VENEZIA
via Cavallotti 83 B
VENEZIA MESTRE ITALIA
Curatori: Giancarlo Da Lio e Tiziana Baracchi
dalle ore 10.00 alle 20.00 di martedì 25 aprile 2006
con introduzione critica di Giancarlo Da Lio
>http://www.guzzardi.it/arte/pagine/ambasciatadivenezia2.html
>http://www.guzzardi.it/arte/archiviomailart/treemostr.html
…
New publication printed in Italian and English by Vittore Baroni.
"Starting from the work of pioneers of the historical avant-gardes, POSTCARTS reconstructs in over 200 pages the vicissitudes of artists' postcards, ranging from the conceptual mailings of Fluxus multicoloured oddities of the planetary circuit of mail art, from unusual 'unique pieces' to the most stimulating alternative and New Pop editions, up to the phenomenon of promotional free-cards and to the virtual e-cards of the internet. Richly illustrated, the book includes original texts and materials selected by artists, experts and publishers of postcards; Anna Banana, Julien Blaine, Guy Bleus, Mario Giavino, John Held Jnr., Janosz Kubas, Jurgen O. Olbrich, Enrico Sist, Enrico Sturani."
PostcARTs can be requested directly from the author at the cover price of 15 euros or $20 outside Europe, air mail postage included. Send well hidden cash or International Postal Money Order ( no cheque or add $5 bank costs) to-
Vittore Baroni, via C. Battisti 339, 55049 Viareggio, Italy.
bnet e-zine / mail art bulletin c/o Bruno Capatti,
via Italo Luminasi 22, 40059 Medicina (Bologna), Italy / Europe
Mail Art Archives, Dogato (Ferrara), Italy / Europe
Member of CORPUS 1 / ZEROTRE – Movimento Arte Effimera
www.corpus1dizerotre.net
BRAIN ACADEMY / NETGROUP / Gruppo PULSPLUS / MMA – MultiMediArte
I.U.O.M.A – The International Union Of Mail Artists
Support of AU MA+ GOM@ Urgent Action of Mail Art / Global Organization of Mail Artist
http://www.guzzardi.it/arte/archiviomailart/artistimailart/capatti.html
http://www.principearte.it/map/pagina capatti.htm