Finally in print, after 45 years
published by Artpool and Magyar Műhely
CHARLES TAMKO SIRATO:
THE HISTORY OF THE DIMENSIONIST MANIFESTO
ALBUM I OF DIMENSIONISM (non-Euclidean arts)
The Systematisation of Avant-Garde Arts
Book presentation in Írók Boltja at 25 May 2010, 4 p.m.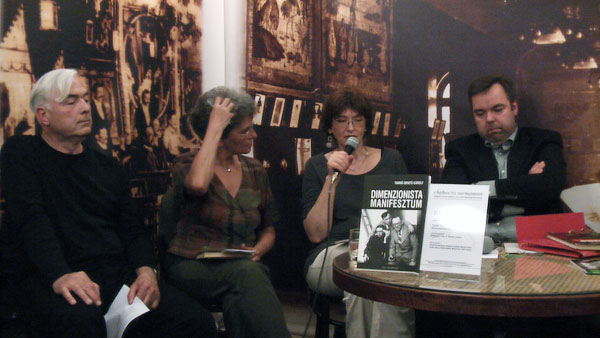 Book presented by: Júlia Klaniczay and László L. Simon. Speakers: Katalin Keserü, György Galántai, Tibor Papp, Bálint Szombathy and Gábor Tóth
Charles Tamkó Sirató was born 105 years ago and died 30 years ago. In 1965, i.e. 45 years ago, he compiled his memories of the history, background and follow-up of The Dimensionist Manifesto, published in Paris in 1936.
Although in 1936 the most prominent artists supported his Dimensionist art theory, it remained virtually unknown in Hungary and it gradually fell into obscurity in France. The main reason for this is that shortly after the manifesto was published Tamkó Sirató had to return to Hungary from Paris and that after World War II broke out he could not leave Hungary, where his innovative ideas were not received positively. Indeed, the implementation of his large-scale plan outlined in The Dimensionist Manifesto was unimaginable from behind the Iron Curtain. He hoped until his death that Album I of Dimensionism (Non-Euclidean Arts), the manuscript of which he distributed among his admirers, would be published.
Artpool and Magyar Műhely wish to pay tribute to the "prophet of Dimensionism" with this book which was recently published after several years of research and includes all the artist's hitherto unpublished writing, his known and unknown pattern poems, the reconstructed version of his Dimensionist album, believed to have been lost, and – as a supplement – the reprint of the now unavailable edition of Manifeste Dimensioniste, published in Paris in 1936.
Through the personal accounts of the author readers can gain a direct insight into the background and reception of Planism in Hungary in the late 1920's; the formation of the theory of Planism and the idea of Dimensionism, and into the writing of The Dimensionist Manifesto in Paris in the early 1930's. The book also tells the story of how the news of the manifesto spread and how it found a following in Duchamp, Picabia, Moholy-Nagy and others. Finally, the volume throws light on the making of Album I of Dimensionism in the early 1960's, explaining and illustrating Tamkó Sirató's N+1 theory proclaimed in his Dimensionist manifesto.
With the foundation of the Artpool Art Research Center in 1992 in Budapest research into experimental poetry could be continued. In conjunction with the "Polyphonix 26" international poetry festival a publication titled Sound Poetry was published under the editorship of Endre Szkárosi, who also wrote the introductory essay to the volume.

Later, one of the exhibits at Artpool's "Sound Image" international poetry exhibition in 2002 was a photocopy of Charles Tamkó Sirató's work titled Ballad. The online publication of this piece and the related document pages (poems, newspaper articles and the Hungarian text of the Dimensionist Manifesto) marked the beginning of the research and exploration of Charles Tamkó Sirató's dimensionist oeuvre.

Simultaneously with Artpool's international research project in the autumn of 2005 (The Experimenter and the Art of Perception) the Magyar Műhely published Bálint Szombathy's volume titled A konkrét költészet útjai (The Paths of Concrete Poetry), whose chapter 6 titled "From Planar Poetry to Dimensionism" could, in relation to the 2006 projects, serve as inspiration for the 2007 exhibition, which provided an insight into Charles Tamkó Sirató's dimensionist oeuvre, as well as for the dimensionist evenings in Artpool P60 (performers:  András Petőcz, György Galántai, Giroud Michel, Bálint Szombathy, Gábor Tóth, Tibor Papp). The online documentation made for this event not only provided the background for Dimensionism but also made further research into it an imperative.

The story continued in 2008, when Artpool organized a dimensionist world conference with the title "N+1/2008 – the dimensionist present". Then, in 2009 the Hungarian publication of Arthur Koestler's The Ghost in the Machine (Európa, 2000, English original: 1967) was rediscovered, from which we were able to learn about Koestler's discovery called the "holon" with the formula: n+1. "A holon on the n level of an output-hierarchy is represented on the (n + l) level as a unit, and triggered into action as a unit. A holon, in other words, is a system of relata which is represented on the next higher level as a relatum. (A. K.) "the essence of Dimensionism: something that is deductive towards the past. Inductive towards the future. Living in the present." (Ch. T. S.)

After all this it became obvious that the publication of Charles Tamkó Sirató's The History of the Dimensionist Manifesto could no longer be postponed. (György Galántai, 2010)