From: Fred Forest <forest@unice.fr>
Date: November 19, 2005 4:07:53 PM GMT+01:00
To: artpool@artpool.hu
Subject: CYBER HAPPENING FOR PARTICIPATION
PRESS RELEASE
"DIGITAL STREET CORNER" FRED FOREST
ART BASEL MIAMI BEACH 2005
Is it possible to surf around in cyberspace and hang out on the street corner at same time (global + local = glocal )? French artist Fred Forest will show us how at a world premiere event that will take place November 30-December 4 in the prestigious context of Art Basel Miami Beach 2005. Forest invites the Internet users of the world to meet him down in the street outside the Bass Museum of Art in Miami Beach for a memorable cyber-happening. There's no need to reserve a plane ticket because the setting will actually be a "corner" of virtual reality, specially created with the help of a new open source peer-to-peer software program developed by Joachin Keller Gonzalez of France Télécom R&D. On the dates indicated, Forest aims to make art history by creating a unique real-time digital work of art with the help of online participants near and far. This work will consummate the official (esthetic and economic) recognition of a new model of art whose content and format bear no comparison to those of the past, an art for the wired societies of the information age.
Forest is no neophyte in the field of new media. He is widely recognized as a pioneer of video art in Europe and co-founded two major avant-garde movements with a focus on interactive media hybrids, Sociological Art and the Esthetics of Communication. In reference to his hacker-like tactics, Vilém Flusser called him "the artist who pokes holes in the media". Forest is also a Net Art pioneer. He won the City of Locarno Grand Prize at the Locarno Festival of Electronic Art in 1995 for his work "From Casablanca to Locarno". People are still talking about his virtual reality-enhanced "Cyber-marriage", which took place live online in 1999 (his best man was none other than the "father of the Internet", Vinton Cerf).
The "DIGITAL STREET CORNER" Web site, http://www.fredforest.com, will open on November 20, 2005 in order to give members of the public a chance to upload their free "ticket" to Miami Beach and carve out their very own niche in cyberspace. Don't miss your chance to strut your stuff in Miami Beach in the company of your new digital friends. A wealthy art collector from the world of high finance has already paid a fortune to be the first in line!
On November 30, 2005, a special cyber-happening is scheduled to take place at "THE DIGITAL STREET CORNER" between 9 PM and 11 PM (local time). Forest himself will be the DJ, at the commands of his four computers, his console, and his turntable. To participate in the happening, visit http://www.fredforest.com
Everything that happens at "THE DIGITAL STREET CORNER" will be projected live onto the exterior walls of the Bass Museum in Miami Beach throughout the four-day duration of the event. And the festivities of the cyber-happening will be webcasted live for millions to see on the "DIGITAL STREET CORNER" Web site. Don't miss your chance to meet and party with people from around the world on this virtual street corner, located for a short time only in "real" space at 2121 Park Avenue in Miami Beach.
Project Sponsors: France Télécom, Bass Museum, Cartier Foundation for Contemporary Art
Cultural Service of the French Embassy in New York, French Consulate General in Miami, webnetmuseum.org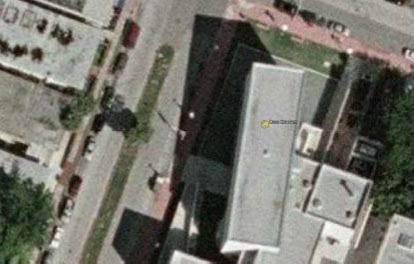 http://www.fredforest.org/book
Contact: forest@unice.fr tel: 33 6 12 29 47 69 tel : 33 (0) 1 45 86 26 64