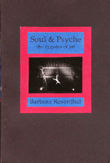 1. SOUL & PSYCHE: THE ZYGOTES OF ART, 1996, edition of 10 signed and numbered, 144 pp. 51/2 x 8 1/4, velox, xerox, black, white, aqua and fuchsia hand-bound-hand-made cover, smyth-sewn.hand turned, original photo tipped onto cover, journal-text in traditional sentences.

SOUL & PSYCHE 150 pp. 51/2 x 8 1/4, printed spine, Black, white, aqua and red cover, perfectbound. 150 surreal photographs, continuous fictively re-sequenced journal-form text from 1985-90.
Highly inventive experimental condensed language-form abbreviates English to only those letters and symbols absolutely necessary for comprehension. Three times as long as Rosenthal's previous books. Soul & Psyche, in addition to providing the reader with startling personal revelations, attempts to face the outside world of imposed stress, with deep insights into the nature of High Art, her "Lumpy Potato Theory of the Universe," and 35mm B&W photos which bring the beholder into a mysterious tiny, distorted universe, as Rosenthal continues the uphill struggle to find a place in it.