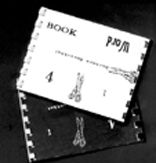 2. ONE 4-WORD BOOK / FOUR 1-WORD BOOKS s.p., NYC, 1995.

4"x5 1/2", 2 comb bindings, B&W, Amiga Computer & xerox.

Another of Rosenthal's Interactive Novelties, this single book-object, locked by bindings on two sides, becomes four books if owner cuts apart. Each 1/4 contains a single meaningful word in each direction, that word being also the name of its font and an explication of its cover. A play on up/down, forward/backward, left/right, single/many, positive/negative, the beholder must follow individuated clues to determine order and procedure for unraveling the puzzle, and without this description, even reading the title is a challenge.