6-9 July 1972 - "DIRECT WEEK" exhibition, events (organized by Gyula Pauer and Tamás Szentjóby). Participants: László Beke, Miklós Erdély, Gyula Gulyás, Miklós Haraszti, László Haris, Ágnes Háy, Tamás Hencze, Péter Lajtai, Péter Legéndy, József V. Molnár , Gyula Pauer, Margit Rajczi, Tamás Szentjóby, Endre Tót. [snapshots: 1, 2]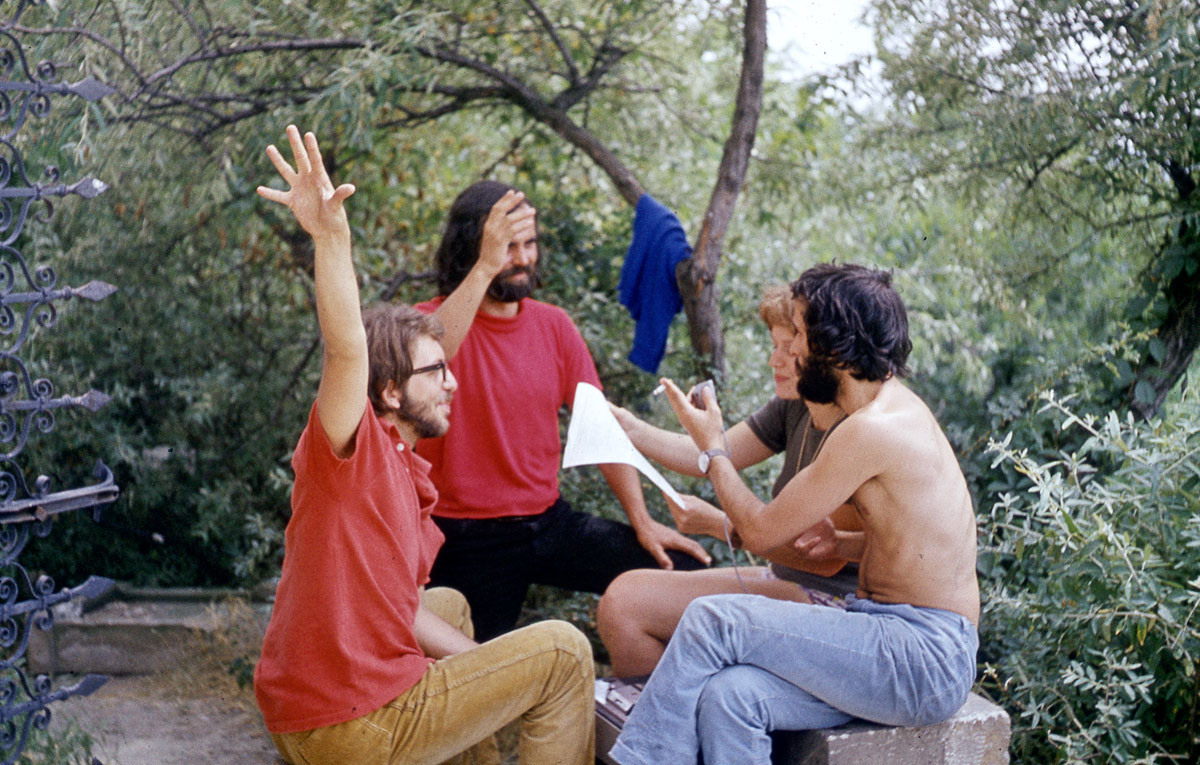 Recording of the pseudo ad by Gyula Pauer [sound 8'11'']
Mihály Kornis, Gyula Pauer, Júlia Veres, Miklós Haraszti
Gyula Pauer: Pseudo advertisement
(Text of the Second Pseudo Manifesto performed by Júlia Veres and Miklós Haraszti in several languages, song hits of the time can be heard in the intervals) [sound archive]
PSEUDO: FALSE! DECEPTIVE! UNREAL!
PSEUDO: SEEMINGLY REAL!
DOWN WITH UNCERTAINTY!
FAMILIARIZE YOURSELF WITH PSEUDO and you will never be embarrassed in the company of erudite people again, because PSEUDO is the mode of existence of modern man, the secret to self-assurance!
YOU ARE UNIMAGINABLE WITHOUT PSEUDO!
With the help of PSEUDO you can gain insight into the most profound problems of our day!
PSEUDO IS A VIEW OF ART!
Don't fall for MINIMAL ART!
Could you ever be sure that you are witnessing a real conflict caused by the real collision of true elements? PSEUDO persuades you with the greatest ease that you cannot be certain of this because believe it or not
PSEUDO DOES NOT SEEM TO BE WHAT ITS GENUINE FORM ACTUALLY IS!
Neither should you purchase from the OP ART firm! It is a cunning narcotics factory!
IF YOU ARE MANIPULATED, MANIPULATE BACK! PSEUDO provides you with the opportunity by exposing its own manipulated manner.
Practical, advantageous! It includes CONCEPTUAL ART as well, because
CONCEPT ART can also be PSEUDO and PSEUDO can also be CONCEPT—in fact,
PSEUDO can be PSEUDO and PSEUDO-PSEUDO is also PSEUDO, even PSEUDO-PSEUDO-PSEUDO is PSEUDO.
DON'T HESITATE! PUT YOUR TRUST IN PSEUDO, BECAUSE PSEUDO IS YOUR FRIEND!
Thanks to PSEUDO you can know that what is sold to you as art is only a tool in the economic and ideological manipulations of the prevailing authority. Be you a farmer, an engineer, a civil servant, or a technician, whatever layer of society you inhabit, in the future you must know:
PSEUDO-QUALITY MEANS THE MANIPULATED MANNER OF THE ARTWORK!
THE MANIPULATED MANNER CHARACTERIZES THE EXISTENCE OF ART IN GENERAL!
THE MANIPULATED NATURE OF THE EXISTENCE OF ART IS A SYMBOL FOR THE MANIPULATED NATURE OF LIFE IN GENERAL!
Let me pose three questions and you will concede that PSEUDO is right:
IS ARTWORK THAT IS MANIPULATED STILL ARTWORK?
IS ART THAT CREATES UNTRUE WORKS STILL ART?
WHAT KIND OF LIFE DOES NOT CREATE ART?
Don't fret over this! PSEUDO will resolve it for you!
ARTWORK THAT IS MANIPULATED IS INDEED ARTWORK, IF IT ADMITS TO BEING PSEUDO!
ART THAT CREATES MANIPULATED WORKS IS INDEED ART IF IT ADMITS TO BEING PSEUDO!
LIFE THAT CREATES PSEUDO ART CAN STILL BE SAVED!
I autograph the phenomena of Pseudo every Tuesday:
Gyula Pauer, May 1972.
(Gyula Pauer: The Second Pseudo Manifesto, 1972)
8 July 1972 - In the course of the program "DIRECT WEEK" performances, actions and events are held by the participants of the "Avant-garde Festival" banned in Budapest.