02 July 1972 - Galántai informs those concerned about his declaration of the chapel as a private property by posting his "letter work" with the label CHAPEL = STUDIO, reproduced in 146 numbered copies.
6-9 July 1972 - "DIRECT WEEK" exhibition, events (organized by Gyula Pauer and Tamás Szentjóby). Participants: László Beke, Miklós Erdély, Gyula Gulyás, Miklós Haraszti, László Haris, Ágnes Háy, Tamás Hencze, Péter Lajtai, Péter Legéndy, József V. Molnár , Gyula Pauer, Margit Rajczi, Tamás Szentjóby, Endre Tót. [snapshots: 1, 2]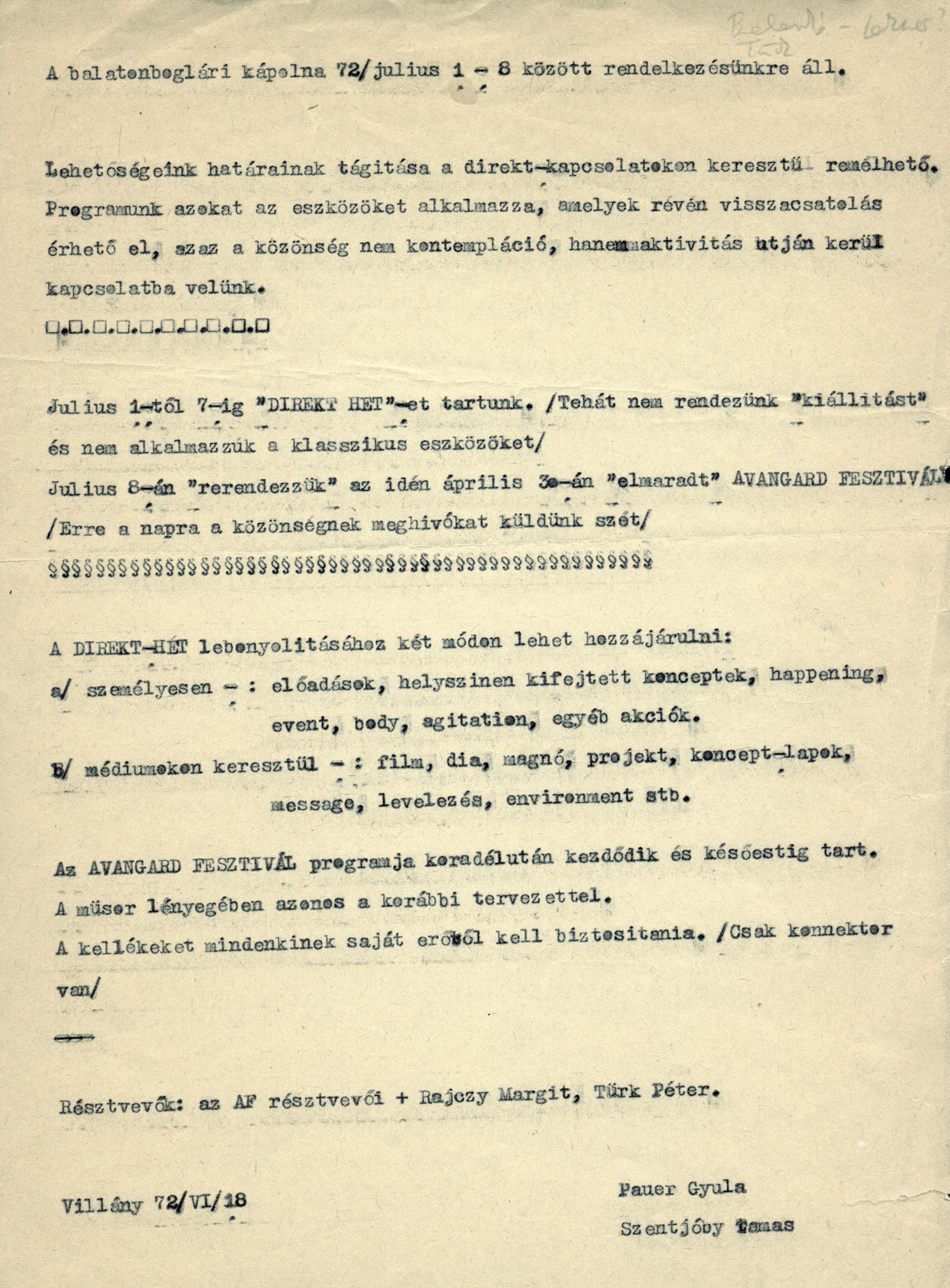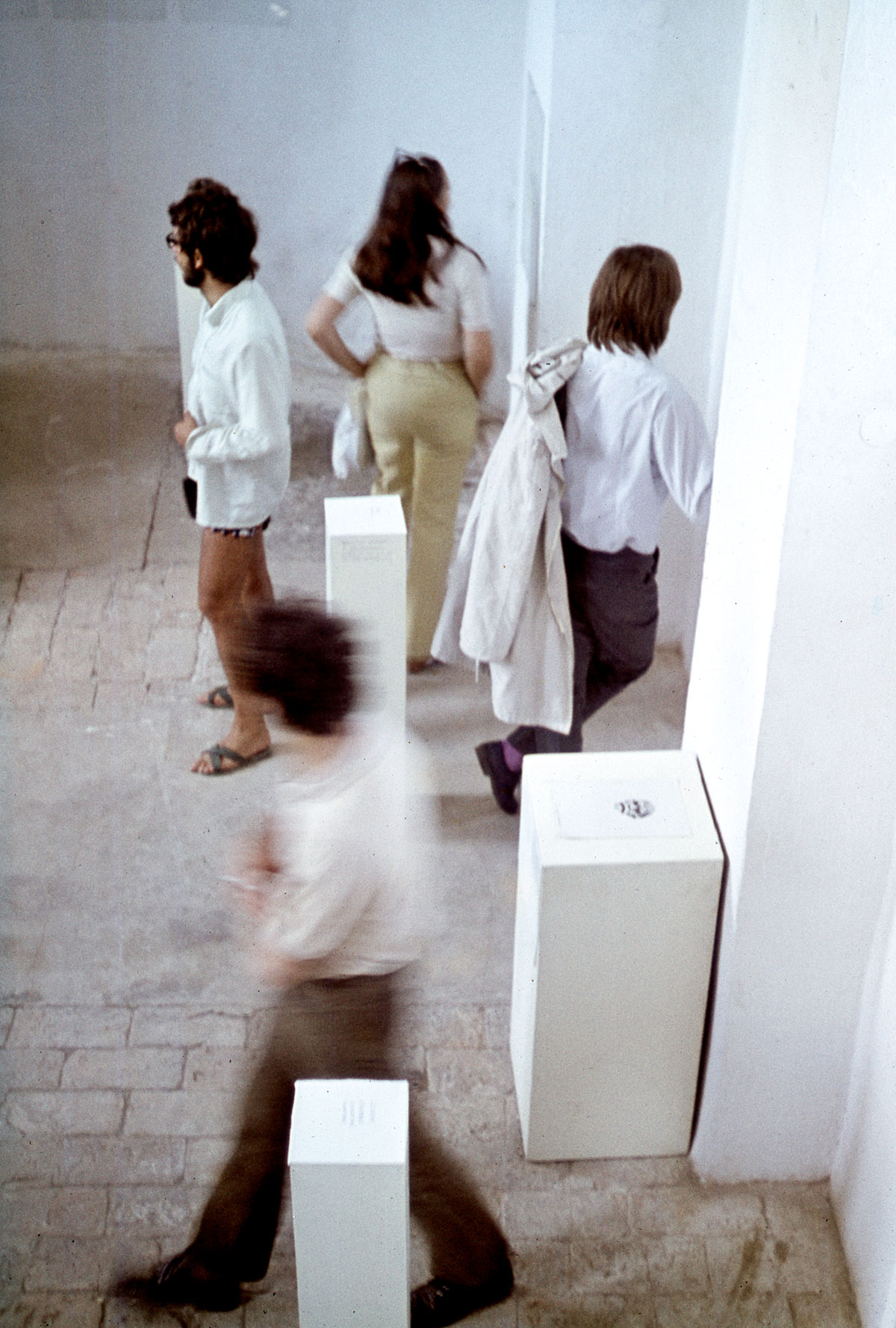 Call for artists by Gyula Pauer and Tamás Szentjóby
"My friend Gyula Pauer – who was developing the art theory and practice of pseudo-sculpture in those years – was invited to the stone quarry in Villány to implement one of his sculptures. I was not invited but accompanied Gyula nevertheless; after a few days they got rid of me. As I found out later, they sent me away mainly because of the rumour that I used my visit as a pretext to defect to Yugoslavia. I had no such plans at all since I knew full well that I would not succeed. In any case, I was chased away from Villány but before that Gyula and I had agreed to organise an operation in the chapel in Balatonboglár, which I, or we, named 'Direct Week' in order to express that we wanted to establish not an indirect connection between the exhibited works and the audience but a direct one. By this we meant that in our iconoclastic culture of thought we wanted artworks not to stand in isolation from the public and the connection should not be a contemplative – i.e. indirect – one but instead everything within the framework we would establish would be closely integrated. We formulated a brief basic concept, typed copies and sent them to those who we felt would be able to join in with this direct operation in one way or another."
(Interview with Tamás St. Auby, 1998)
Gyula Pauer: Agitation programme
"I held an intensive course, which I named an agitation programme, for the audience. I put a chair by one of the walls and I put four or five chairs opposite. I asked the people who arrived in the chapel to take a seat and, being opposite them, I began to explain about the artworks. I tried to create some propaganda for the exhibited artworks and artists. At one of these events, an official wearing a nylon shirt and grey pants joined in. We did not know that he arrived in a grey Volga or Pobeda, or some similar make. The point was that he sat down in one of the chairs and listened to my speech. We were all itching to challenge his probably narrow-minded and inflexible views. And there were many ways of carrying out this provocation…" (Interview with Gyula Pauer, 1998)
8 July 1972 - In the course of the program "DIRECT WEEK" performances, actions and events are held by the participants of the "Avant-garde Festival" banned in Budapest.