[magyar]
HET APOLLOHUIS
1980–2001
an art space of the third kind - from Holland
"...Het Apollohuis is not bound to time or space...Het Apollohuis is the network. A self-evident relation between artists, who know each other, exhibit together, compose and perform together. In this sense Het Apollohuis can be in New York, Berlin as well as in Lodz." (Titus Yocarini, Amsterdam 1998)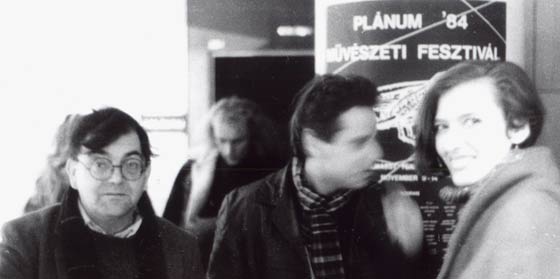 Paul Panhuysen - Arnold Dreyblatt - Júlia Klaniczay at the Planum '84 festival in Budapest (photo: G. Galántai)
---
20 June 2003 - Artpool P60
from 5 p.m. - exhibition on the history of Het Apollohuis (photos, slides,videos, invitation cards, flyers, books, LP's and CD's, video-screening of concerts and performances) Works by Paul Panhuysen ("Peekaboo 4 Long Strings" string-installation, prints from the Calcuco series, "Synthetic Nature" - sound sculpture with soundchips, piezo and solar cells)
from 6 p.m. - Slide-show and lecture by Helène and Paul Panhuysen the founders, organizers and leaders of Het Apollohuis - the exhibition and installation programs of the art space, the history of the building, the criterias of selecting and exhibiting artworks, the role of the artist as program-organizer, the audience.
from 7 p.m. - concert by Paul Panhuysen: "Peekaboo 4 Long Strings"
[sound 5′40″] [sound 19′24″] [video]
Special thanks to the The Royal Netherlands Embassy in Budapest for sponsoring this program.
Photos about the event by Péter Forgács
---
Between 1980 - 2001 Het Apollohuis organized 253 exhibitions and installations, 476 concerts and performances, 46 public lectures and symposia and several of festivals (like "ECHO": The Images of Sound II. in 1987, FLEA Festival in 1997, etc.).
"Paul and Helène Panhuysen have sacrified their personal time and energy in presenting a broad program representing Visual Arts, Performance, Installation, Sound Art and Music.This (program)... is exemplary for alternative art spaces worldwide as it presents work on the cutting edge of the contemporary art scene." /Arnold Dreyblatt, 1992/
Some of those artists who had participated in their programs during the 21 years: Esther Ferrer, Boris Nieslony, Arnold Dreyblatt, Phil Niblock, Joe Jones, Jürgen Olbrich, Remko Scha, Jackson MacLow, Anne Tardos, Jaap Blonk, Paul Dutton, J.H.Kocman, Terry Fox, Eric Andersen, Alison Knowles.
Hungarian artists were: Group 180 (1984), Péter Forgács and Tibor Szemző (1985, 1988), Sándor Kardos and the Horus Archive (1988)...
"...the really important aspect of Paul Panhuysen's establishment of Het Apollohuis has been the creation of situations that allowed art to happen." /Rolf Sachsse, Bonn, 1998)/
Publications of Het Apollohuis:
36 artists' books, 5 screenprints, 11 multiples and artists' publications, 25 books/catalogues, 19 casettes/records/CD's, posters, flyers, postcards.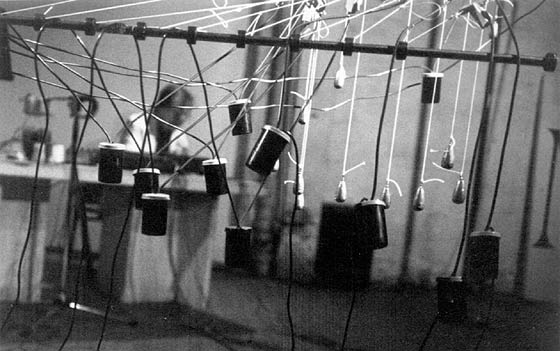 Paul Panhuysen (1934) artist, musician, curator, art sociologist and art theoretician. In the sixties he had worked in the Van Abbe Museum (Eindhoven) and in Den Haag City Museum, while at the same time (from 1965) he was the leader of the Bende van de Blauwe Hand (Blue Hand Gang). In 1968, he founded The Maciunas Ensemble, an experimental music group still active to this day. From 1980 until 2001 he led and directed Het Apollohuis, Eindhoven.
By the end of the 70s, he had worked as an artist adviser for urban projects. During those years he began dealing with systematic schemes and mathematical series that he has continued to use in his work as an artist. Found objects, the use of chance, music and sound become increasingly important in his work. Since 1982, he has constructed his "Long String" installations from various types of materials (steel, brass-wire, strings, nylon, fishing-line etc.) and performed on them in concerts or exhibitions worldwide...
In 1984, he had participated in the Planum 84 Festival in Budapest. In the main hall of the Cultural Center at the Almássy Square he peformed together with Johan Goedhart a piece written for system of strings and magnetic tape with the title "Paraphrase, Hommage à Franz Liszt".
---
Judit Bodor: Interview with Paul Panhuysen
Judit Bodor's writing on the Het Apollohuis
---