Artpool40 –
Active Archives
and Art Networks
International Conference of the
Artpool Art Research Center
February 20–21, 2020 Museum of Fine Arts, Schickedanz Hall, Budapest
Agustina Andreoletti | Zdenka Badovinac | David Crowley | Katalin Cseh-Varga | Mela Dávila Freire | Lina Džuverović | Meghan Forbes | Daniel Grúň | Sarah Haylett | John Held | Roddy Hunter – Judit Bodor | Jasna Jakšić – Tihana Puc | Klara Kemp-Welch | Kaja Kraner | Emese Kürti | Karolina Majewska-Güde | Lívia Páldi | Henar Rivière | Sven Spieker | Kristine Stiles | Katalin Timár | Tomasz Załuski | Elisabeth Zimmermann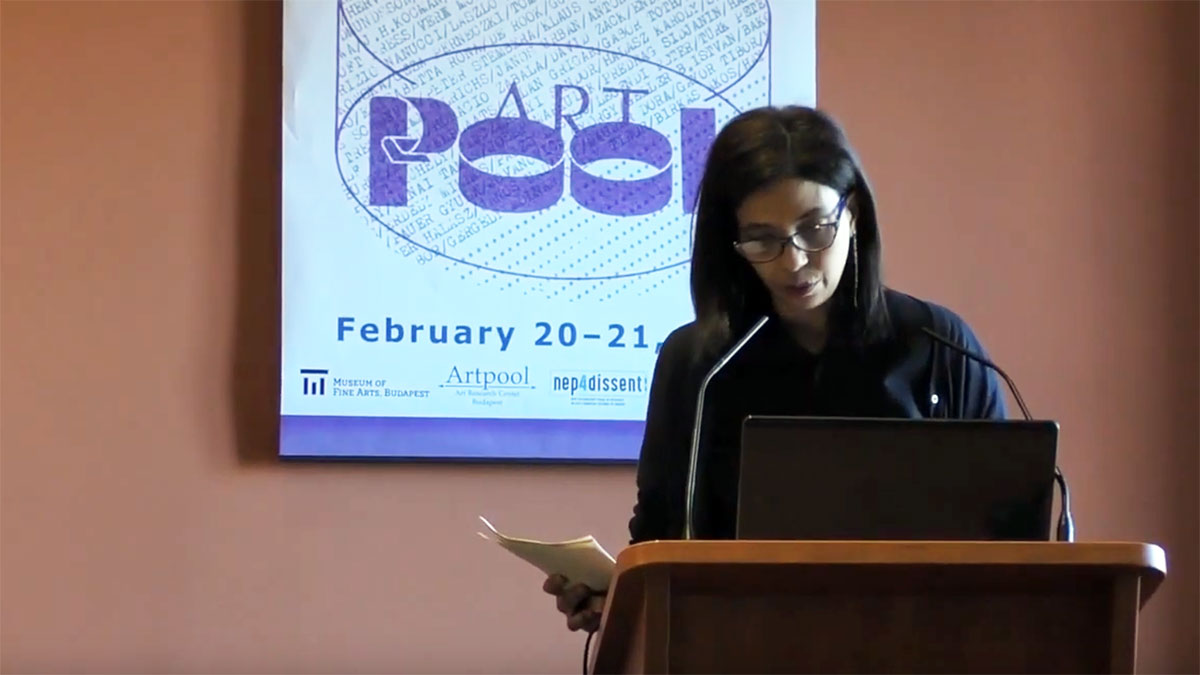 Collaborative Actions, Continued Omissions – A Feminist Revisiting of Yugoslav Collectives in the 1970s
Abstract:
This paper contributes to my multiannual research and publishing project "Collaborative Actions, Continued Omissions," which examines the mechanics of gender-based exclusion in the historicization of collective practice. The case studies I will discuss are centered on Yugoslav collectives and collaborative initiatives in the 1970s, including groups OHO, Bosch + Bosch, the Podroom initiative (Zagreb) as well as informal gatherings around the Student Cultural Centers in Belgrade and Zagreb. The paper focuses on the gradual erasure of Yugoslav female artists from historical narratives of collective practice, in the context of broader fundamental discrepancies between collectivity and visibility. Through a series of interviews with artists and close examinations of case studies of artists' collectives, the project foregrounds a feminist perspective in the study of artists' collectives by examining ways in which we archive and historicize collective practice, and by highlighting cases of protagonists who systematically remain written out of art historical narratives.
Women were heavily underrepresented in the activities of the now well-known artist groups or collectives (a dominant modus operandi for artists in Yugoslavia across the twentieth century) across the history of Yugoslav avant-garde. They also frequently remained uncredited or their names gradually "dropped off" participants' lists in the process of the historicization of these practices. Many artists' groups and collectives such as Zenit, Gorgona, The Group of Six, Exat 51, and Red Peristyle did not include any women – a phenomenon worth analyzing in its own right. Nevertheless, other artists' groups such as Traveleri, Bosch + Bosch, OHO, the initiative Podroom, and others did indeed include female protagonists, but they frequently took a less prominent role or were eventually omitted from the most visible historical narratives of these collectives. For instance, the artist Katalin Ladik's name is rarely found in historical accounts of the collective Bosch + Bosch. By her report (in the interview I conducted with the artist in 2013) while collaborating with Bosch + Bosch she was frequently asked to work specifically on the sound elements of their projects – an input regarded to be of lesser importance in the sphere of visual arts.
Female artists and cultural workers faced a complex situation in Yugoslavia of the 1970s, navigating between "public patriarchy" (the state) and "private patriarchy" (the family), garnering little visibility and having limited agency, often being relegated to secondary roles or being present as "supporters" in the role of girlfriends or wives of male artists. The gradual erasure from narratives of these groups was (and continues to be) not only a result of the difficulties women faced in maintaining their artistic practice, as they tried to fulfill multiple roles assigned to them in society but also as a result of the gradual process of art historical omission in a field that prioritizes singular (preferably male) authorship in the development of artists' careers.
This paper proposes a feminist revisiting of collective practice in Yugoslavia and draws on new data collected through interviews I conducted with artists, curators and art historians between 2013 and 2019. These include interviews with David Nez, Marika and Marko Pogačnik (OHO), artists Sanja Iveković, Katalin Ladik, art historians and curators Beti Žerovc, Jasna Tjardović, and others. The interviews will form a basis of a critical analysis of the process of historicization of collectivity, drawing attention to the way personal narratives are articulated in relation to the official, public narratives.