5-19 May - Artpool P60
MONEY AFTER MONEY - (Artists' money) [video]
The first exhibition of Artpool's collection of international artists' money.
Guest: Exchange Space –Island Exchange, with selected idea shares. (Jenő Lévay)
Robert Watts, American Fluxus artist drew his Dollar Bill in 1962 and it later became a defining piece in the history of artists' money. It is no coincidence, or rather it is an evolutionary chance event, that the precedent of Watts' money-work was an artists' stamp depicting a dollar bill too and inscribed Safe Post. The stamp features a banker holding money in his hands as if it were playing cards.
The ironic gesture that transformed money into an artistic medium attracted many followers as a result of the world of money and especially its superstructure reminiscent of gambling, which had come to dominate not only the economy but also people's daily lives. Fear and suspicion felt towards the social institution of money is not a new development, as Aristotle had already discussed it when the use of money and within that 'making money' became a threat to communities. Medieval discussions focusing on money-money transactions without restrictions, as well as the debates of modern-day philosophers about the relation between money and freedom or money and equality were all forerunners of this newly emerging 'great terror'.
Instead of money-money transactions, the idea underlying the genre of 'money-work' and proposed by Fluxus is the alternative of money-money-work transactions, in which bank notes are rendered in the form of graphic works and are thus recognised in art and culture. (György Galántai)
---
MONEY AFTER MONEY
Every visitor that came to the chance exhibition on the Leap Day event on 24 February 2000 had the opportunity to choose a piece they thought or felt was important to them and take it home as a gift. The exhibition was gradually dismantled in this way to 'site-specifically' become part of the city, the country and the world. Every author (artist) was given an 'appreciation prize' based on how many visitors wanted to take their work home. A total of 185 'artists' bills' were paid as the 'appreciation prize' awarded to the forty authors, and every work was 'sold'. The slogan of the underground money-money-work transaction is: "What does not yet exist but will exist already exists." The value of one 'Fluxus Buck' is HUF 1,000, and the time of the first exchange transaction is the opening of the artists' money exhibition.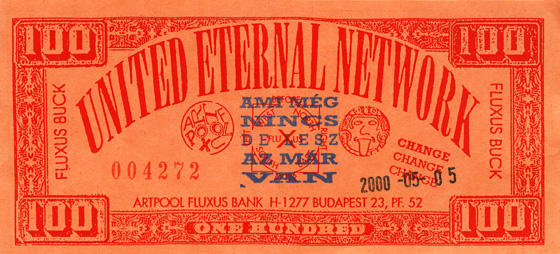 WHAT DOES NOT YET EXIST BUT WILL EXIST
ALREADY EXISTS
---